Plastic bottles and closures are available in many shapes, sizes, and colors. Protecting the contents inside, ease of use, and ensuring child resistance are very important attributes when it comes to selecting the right bottle and closure. Along with repeatable quality, these attributes are at the core of what makes excellent product packaging. But all too often brand differentiation is not considered. With the variety of bottles and closures available, how increase the shelf presence of your brand?
Bottles and closures that function well may be easy to find. However, much of the packaging on store shelves today is generic and looks similar, and probably doesn't have a big impact on the brand. At Drug Plastics, we know that your product is special and deserves packaging that stands out from your competitors. We offer unique packaging options that can positively impact your brand, secure the contents inside, are easy to use, and provide child resistance.
We manufacture beautifully designed packaging systems that create a wow factor and stand out from the sea of uniform bottles and closures on store shelves. If you want to differentiate and increase the shelf presence of your brand, consider these three exclusive packaging systems, or a custom designed solution.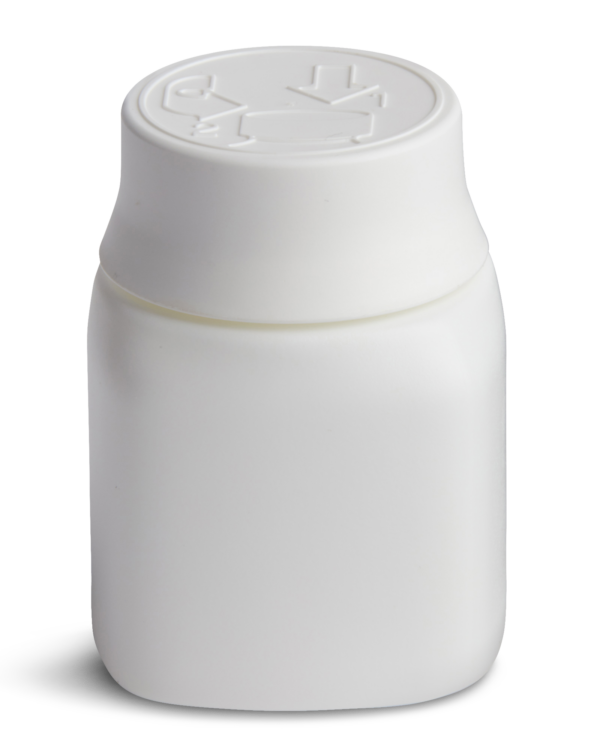 Parabolic Square
Unlike a traditional square bottle, the Parabolic Square gradually curves in the shoulder area. This 50cc bottle has a 28mm neck finish and is available in virgin HDPE or Post-Consumer Recycled (PCR) HDPE. When paired with the 28mm SecuRx® Cone Child Resistant Closure (CRC), the complete package has a graceful unique design and looks like no other plastic packaging system on the market. Ideal for caplets, capsules, and tablets, the Parabolic Square is sure to grab the attention of consumers and increase brand awareness.
Pop & Click™ Packaging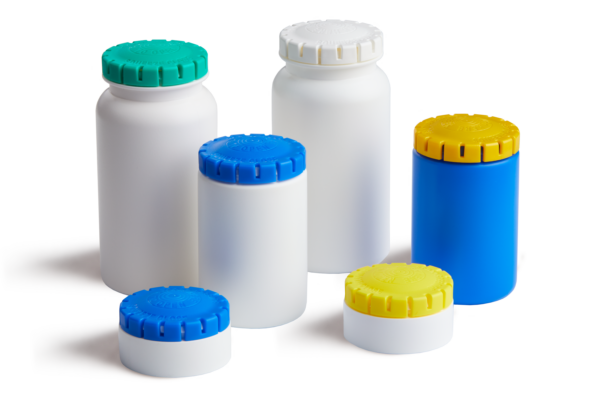 Our exclusive Pop & Click Packaging System instantly makes a "wow" impression. The child resistant closure has a design unlike any other. How's that for brand differentiation? Aside from its unique look, Pop & Click has superior child resistance but is still more senior-friendly than traditional CR closures. In fact, for child resistance it passed CPSC testing with 100% effectiveness before demonstration, and 98% effective after demonstration. And for senior-friendliness: 86% of seniors tested rated Pop & Click easier to open than other child resistant systems. Pop & Click packaging consists of a 38mm closure and a variety of cylinder sizes: 60cc, 100cc, and 120cc. We also offer the Pop & Click Round Bottle, and an 8cc Jar. Made from either virgin HDPE or PCR HDPE, Pop & Click packaging is a great choice for caplets, capsules, and tablets. If you are looking for high functionality blended with strong brand differentiation, Pop & Click has it all.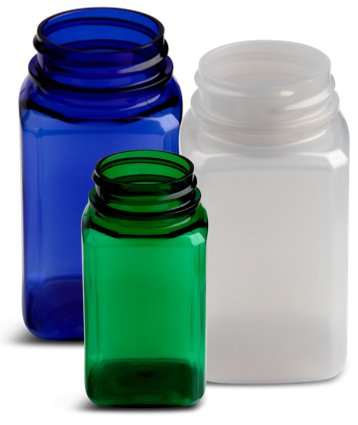 Wide-Mouth Beveled Square
Like jewels on a shelf, the Wide-Mouth Beveled Square family of bottles get their visual appeal from their facet-like design. The bottles can be made with either virgin PET or PCR PET and are available in five sizes, ranging from 60cc to 400cc.  These bottles are compatible with our Continuous Thread or SecuRx® Child Resistant closures ranging in size from 33mm to 45mm. Using a Beveled Square bottle with either closure option works well for caplets, capsules, and tablets. If you want your brand to stand out, consider our Beveled Square bottles with either compatible closure option.
Custom Designed Bottles and Closures
Sometimes, an off-the-shelf bottle and closure won't deliver the brand expectations your product requires. Perhaps there are filling line issues or regulatory requirements that you must address. In these scenarios, designing a custom bottle or closure may be the right choice for your product. We help our customers navigate this process and create the perfect packaging every time. We delve into the project and understand how the packaging should look and the requirements it needs to meet. Our custom design bottle and closure solutions come in on-time and on-budget, and will increase the shelf presence of your brand.
Choose Bottles and Closures that Increase the Shelf Presence of Your Brand
Your product doesn't have to be packaged like everyone else's. Whether you choose a stock bottle and closure or decide that custom designed packaging is the right choice for your brand, our knowledgeable team of designers, engineers, and mold-makers can help you design packaging that makes your product look spectacular. Your products will impress consumers and have a positive impact on your brand. Contact Us or call 610-367-5000 to speak with a team member immediately.