At Drug Plastics, we want to share our knowledge and resources with our customers so they can make informed decisions about plastic packaging. For this reason, we've created our online Resource Hub. In this section, you will find user-friendly tools, articles, and videos that provide important details about our products and services. Find everything you're looking for, quickly and easily. Continue reading for a brief description of each section or browse through our Resource Hub for the full experience.
DPG Connect Blog
Missed our newsletter?  No worries. Our blog contains a library of all the articles from past newsletter issues. In addition, you can also find blog posts addressing specific product lines, pertinent topics, like storage and handling guidelines, helpful suggestions on how our products can increase your brand presence, and how to improve sustainability. You can even read about what we're doing to improve our own sustainability and other endeavors at Drug Plastics.
Exclusive Videos
Visuals are a great tool to communicate the features and benefits of a product. We've produced several exclusive videos that showcase our products and demonstrate how to use them. The videos incorporate real examples of our products in use so you can decide if the packaging fits your needs. In addition, you can also explore the benefits of sustainable resins and how these resins can help you reduce your carbon footprint. Wondering what the differences are between glass and plastic packaging? There's a video for that too.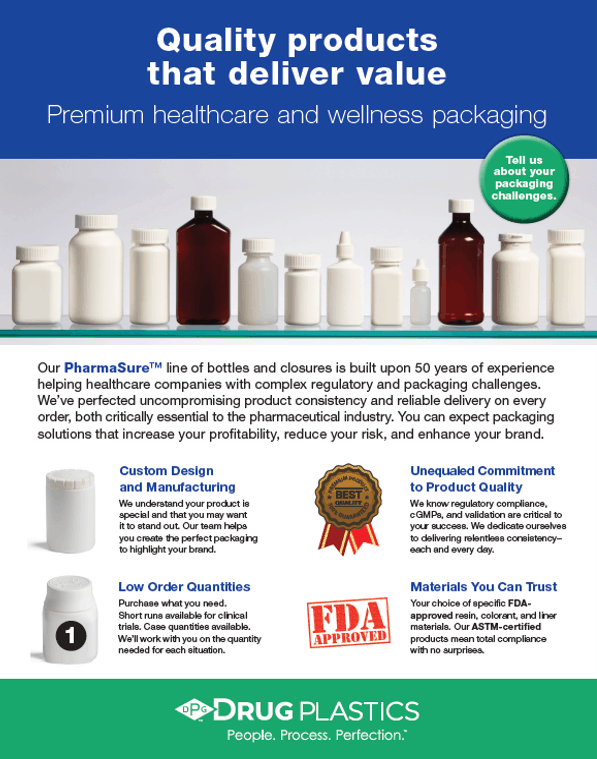 Information Sheets
When you need product information in an easy-to-read format right away, check out our marketing materials. You will find flyers that discuss specific products, their features and benefits, describe the services we provide to our customers, recommendations for storage and handling of plastic bottles, and much more. Use this section when you are looking for information that will help you find the right packaging. Need storage and handling information for HDPE bottles? Check. Looking for information on our new exclusive Pop & Click Packaging System? Check. Wondering what custom design services we provide? Check. Download a full color flyer right from the screen.
Published Journal Articles
Sharing our knowledge and over 60 years of experience with our customers is important to us.  It builds trust with our customers: they have confidence in our experience helping the pharmaceutical, nutraceutical, and lifestyle industries with their packaging challenges. We've published articles on relevant topics in several leading industry publications that can help our customers and other businesses learn more about plastic packaging. You will find trends and tips on a wide variety of subjects. View all of our articles here.
Sustainability Calculators

We've developed eight different Sustainability Calculators to help you realize savings when it comes to conserving natural resources.  Sustainability and improving the carbon footprint of the planet for future generations is a very high priority at Drug Plastics. And, we want our customers to know about the sustainable solutions we offer. For instance, you can see the savings in common everyday examples when you make the switch from PET to Post-Consumer Recycled PET resin or when you reduce the amount of collateral packaging on your orders. We encourage you to explore all of our calculators and other sustainable options that are available within your own company. We hope you will join our efforts to conserve the planet's finite natural resources. Future generations will thank you.
For more information, contact a knowledgeable team member, or speak with someone immediately about your packaging challenges, call 610-367-5000.