What does sustainability mean to your company? Are you concerned about protecting our planet for future generations? Are you working with suppliers that can help lessen your impact on the environment? At Drug Plastics, we are asking ourselves these questions, too. 
More and more companies worldwide are including sustainability in their strategic plans. The plastics industry is no exception. We are frequently asked about the steps we are taking to reduce our carbon footprint and what our sustainability goals are.
Drug Plastics Believes in a Circular Economy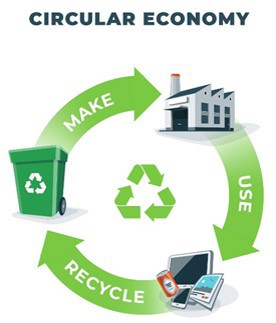 A Circular Economy is defined as an economic system aimed at eliminating waste and the continual use of resources to create a closed-loop system, minimizing the use of resource inputs and the creation of waste, pollution and carbon emissions.*
At Drug Plastics, we are integrating this philosophy into our corporate sustainability strategy. We want the resources and raw materials we consume to be re-used again and again, where outputs become inputs and where what was previously wasted, is consumed again and again.
Partnering with Our Suppliers
You may have heard or read about the sustainable HDPE Bioresin and Post-Consumer Recycled PET that we use to make many of our bottles. Well, many more efforts are going on inside our company that support a reduction in carbon footprint.
Drug Plastics is working diligently with our suppliers – from resin and raw materials to the necessary utilities we use to run our manufacturing facilities – who share our vision for corporate responsibility. We work together on ways to reduce our carbon footprint and how we can build a circular model. From managing electricity and water usage, reducing reliance on natural gas, upgrading equipment, and making lighting improvements in our facilities, we continue to identify new ways we can save on fossil fuel resources and reduce waste throughout our company.
Moving to Wind-Generated Electricity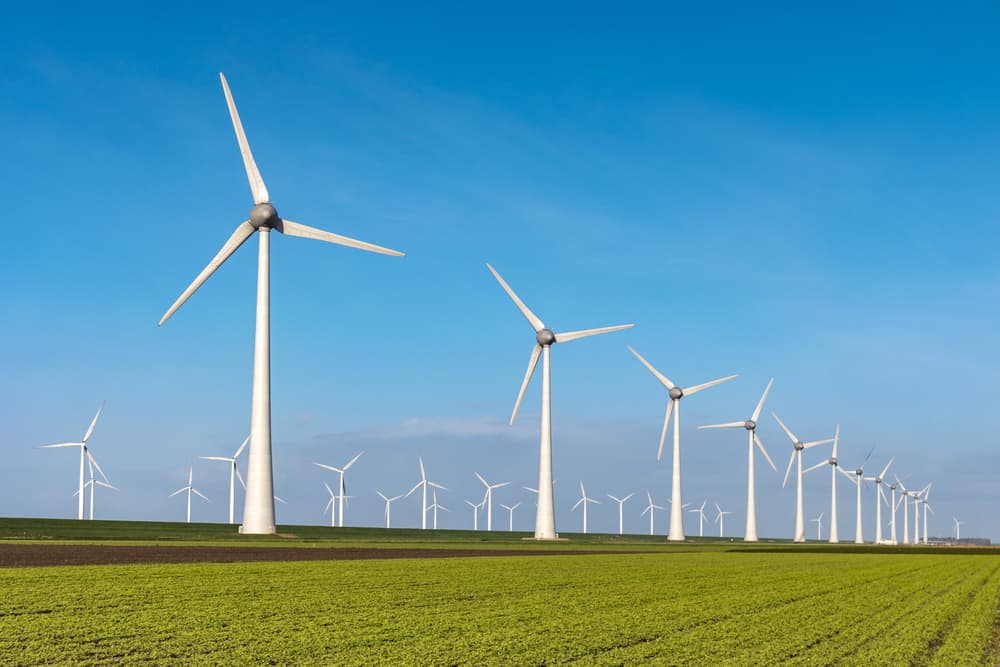 Everyone uses electricity – at home and work. It would be hard to function without it, right? But have you considered how electricity is generated? Is the electricity sourced from fossil fuel such as natural gas, or is it created from a sustainable source, like wind or solar?
For us, this is an area where we've realized a significant impact on our 2019 sustainability results. We reviewed how electricity is generated in the geographical locations of each of our plants. Our Boyertown, PA plant and Corporate Office switched from 61% fossil fuel-generated electricity in 2018 to 100% wind-generated electricity in 2019. Our Elysburg, PA plant, also received 61% of its electricity from fossil fuel-generated sources and has now switched to 100% renewable electricity. The Valley City, ND plant is also well on its way. This location currently receives 77% of its electricity from renewable sources.
By switching these three manufacturing facilities to renewable energy sources in 2019, we have reduced our carbon footprint by 17.1% overall. Our other manufacturing facilities will also move to renewable electricity sources in the coming months, working towards reducing our reliance on fossil fuels even more.
Reducing Water Usage
When you're thirsty, it's easy to grab a plastic bottle of water. Let's face it – bottled water has the perception of tasting better than what comes out of the tap in many areas. But what about all the empty plastic water bottles that end up in landfills or our oceans? To help diminish our contribution to this bottled water trend, Drug Plastics has installed filtered water refilling stations at all of our locations, saving 261,352 plastic water bottles to date from being used and then disposed of. Our employees can fill up their reusable bottles with great-tasting water anytime, without wasting plastic bottles. This helps to reduce the amount of plastic that needs recycling.
Upgrading to More Efficient Equipment
Advances in equipment technology affect sustainability, as well. We invested in several new blow molding machines in 2019 that replaced older, less efficient machines in several of our manufacturing locations. These new machines are designed with better technology that allows for a 35% – 65% reduction of electricity usage, depending on the machine type and the process for which it's used.
New and more efficient heating and air-conditioning equipment has also been installed at several locations. We're investing in new equipment to help us reduce our reliance on the planet's fossil fuels (coal, natural gas, oil, and uranium) to produce electricity and conserve vital resources for future generations.
Smarter Lighting in Our Manufacturing Plants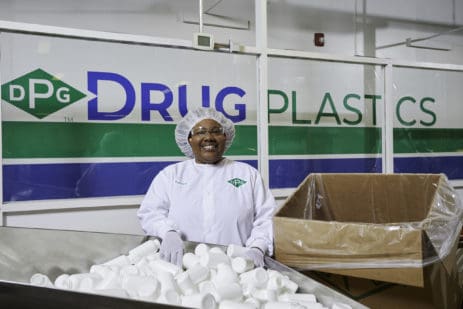 A considerable amount of lighting in our locations has been switched over to more efficient LED lighting. These include inside areas, such as on the manufacturing floors and outside areas, such as parking lots and building exteriors. Our production facilities are also undergoing a facelift. We're painting our production facilities white, which not only provides a fresh new look in our plants but also brightens the environment for our employees.
Implementing Single Stream Recycling
Our Boyertown, PA facility is converting to single-stream recycling. Single stream recycling will enable our employees to recycle waste materials more efficiently. They will not have to separate recyclable materials into different containers. Currently, all of the scrap metal, a vast majority of cardboard, and shredded paper is being recycled or re-purposed. Going forward, we are adding glass jars and bottles, newspapers, mail, phone books, food boxes, wrapping paper, and milk, juice, and soda containers. Any plastic container will be recycled, too.
Let Us Help with Your Sustainability Efforts
We take our corporate social responsibility seriously and are making continual strides towards achieving our sustainability goals. We believe it's crucial that you know where we stand on this issue and what we are doing, so you feel good about using our plastic bottles and closures to package your products. Our efforts are not only good for the planet, but they also help you to fulfill your packaging needs for your customers.
Drug Plastics can help you identify ways to reduce your carbon footprint by exploring all of our plant-friendly products and manufacturing options. Join us to become more sustainable and rest easy knowing that we're aiding your sustainability efforts and helping to save resources for the future. To learn more, contact the packaging experts at Drug Plastics or call 610-367-5000.
*Wikipedia Online – Circular Economy