Packaging for any product, no matter what the industry, is essential to build and maintain a company's brand. The packaging is the first thing consumers see, and creates a critical first impression on retail shelves. Everyone knows that the primary function of any packaging is to secure and protect your products. However, it is also a reflection of your company's reputation in the eyes of the consumer. In many ways, the packaging is the product. Finding a packing partner who understands these issues is imperative to your success.
In most healthcare-related industries, bottles made of high density polyethylene (HDPE), low density polyethylene (LDPE), polypropylene (PP), and polyethylene terephthalate (PET) have become widely-accepted packaging options. There are many plastic bottle manufacturers, but how do you find the right one for your business? Seek a manufacturer who:
Makes quality products that are unlikely to present downstream problems for your company
Provides services and options that align with things you feel are important
Wants to build a long-term relationship with you so both businesses grow faster in a strategic partnership
At Drug Plastics, we build long term relationships with our customers and invest in their success by providing them with the products, knowledge, and support that gives them a strategic advantage. Let's elaborate on a few examples.
Find a Manufacturer Who Understands What's Important to You
Plastic Bottles and Closures that Visually Support Your Brand: Does everything about your plastic packaging convey a sense of trust for your customers? Drug Plastics can help ensure that your packaging enhances your brand because we have engineered our manufacturing processes to focus on the highest quality requirements for each and every bottle and closure we manufacture. You want your packaging to be virtually perfect each and every time. With Drug Plastics, you can have confidence knowing your plastic bottles are consistent.
Defects in plastic bottles typically occur during the manufacturing process. For instance, if flashing on the bottle bottom is not removed during production, it creates a uneven printing surface, and results in a poor brand impression. Our team has engineered our manufacturing process to produce high-quality plastic bottles that are defect-free every time.
Bottles that Minimize Risk and Waste: Product recalls or safety concerns can be a result of cloudy bottles or material trapped in the resin that makes the packaging look dirty or contaminated. These situations can erode consumer confidence in your brand or expose the customer to risk.
Sub-par plastic bottles and closures can lead to inefficiencies on your filling lines, lost production time, and product that cannot be sold. These situations lead to reduced profitability and negatively impact your bottom line. It's never good when filled packaging or product has to be thrown away because problems are identified on the filling line. Worse yet is when your product reaches the point of sale and the problems are identified on the shelf by a consumer.
Closures that Work with the Bottle: Closures for the bottles are also an important part of product packaging. When you work with Drug Plastics, we ensure that our closures work properly and have complete functionality to protect your product. We manufacture our own closures that complement our bottles. Our one-stop-shop approach will save you time and money.
The healthcare and lifestyle industries face many complex regulatory challenges, including regulations for child resistant packaging. Many states have their own unique packaging requirements which must be strictly adhered to. We can help you navigate these complex regulations and make sure you are compliant now and in the future.
Customization for your brand: Your product is unique, and your packaging should reflect that. Make sure your brand stands out with the exact image you want to project. We help you decide what plastic packaging option is right for your product. Although designing custom pharmaceutical pill bottles, supplement containers, and lifestyle packaging is our specialty, we also have a large selection of stock bottles and closures available for when quick production-ready solutions are needed.
A Safe Resin Source: The country of origin is another important safety aspect. Plastic bottles and closures manufactured overseas may have impurities in the resin or colorant that could leach or bleed into your products. Documentation of origin may not be available and the products may not comply with FDA regulations.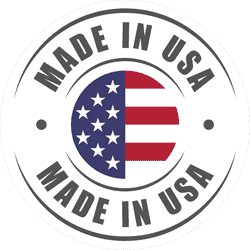 All of our bottles and closures are FDA-approved and ASTM-tested for safety and compliance, and are manufactured right here in the USA at one of our eight production facilities. You will have peace-of-mind knowing that our products are manufactured under strict guidelines for the safety of your consumers and your products.
Commitment to Sustainability: We take sustainability seriously. More and more companies worldwide are including sustainability in their strategic plans, and Drug Plastics is no exception. We are frequently asked about the steps we are taking to reduce our carbon footprint and what we're doing to ensure a sustainable future. Learn more about our planet-friendly initiatives.
Packaging made from recycled materials is important to many consumers. There is strong market support for carbon-friendly alternatives, and Drug Plastics is on the leading edge. We are working to provide alternatives to traditional plastics made from fossil fuels.
For example, Post-Consumer Recycled (PCR) resin is an excellent planet-friendly option. PCR resins help to reduce greenhouse gas emissions in the environment. Reducing the amount of CO2 in the atmosphere helps to decrease the greenhouse gas levels that are damaging our planet.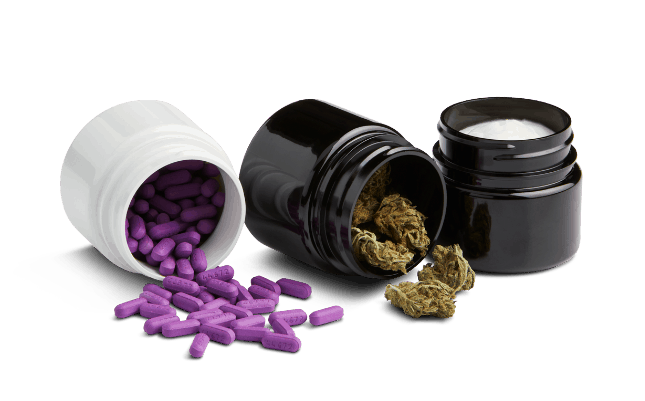 PCR resins also provides application versatility, retaining similar properties, performance, and application versatility as the traditional counterparts. In addition, PCR resins are FDA-approved, and meets the rigid standards for the pharmaceutical, nutraceutical, and lifestyle industries. The resins also pass USP and ASTM testing.
Drug Plastics believes in a circular economy. And we want the resources and raw materials we consume to be re-used again and again  – outputs become inputs, and what was previously wasted, is consumed again.
Scalable Growth: As your business grows, Drug Plastics will grow with you. We will keep up with the demand for your product and our supply chain will match your manufacturing needs. As you add to your product line, we will continue to offer new and innovative packaging solutions that align with your brand and increase customer confidence. Our strong business growth model will benefit you now and in the future.
We Invest in Your Success
We are a true plastic packaging partner for your business. We believe in our customer's success and care about their business. Drug Plastics is a knowledgeable partner that is responsive, courteous, and dependable. Our experienced team realizes that there is more to a relationship than just the financial transaction of buying packaging.
Additionally, we understand that consistency in the manufacturing process is essential. Our customers know that using virtually perfect bottles time after time not only reduces waste but helps build consumers' trust in their brand.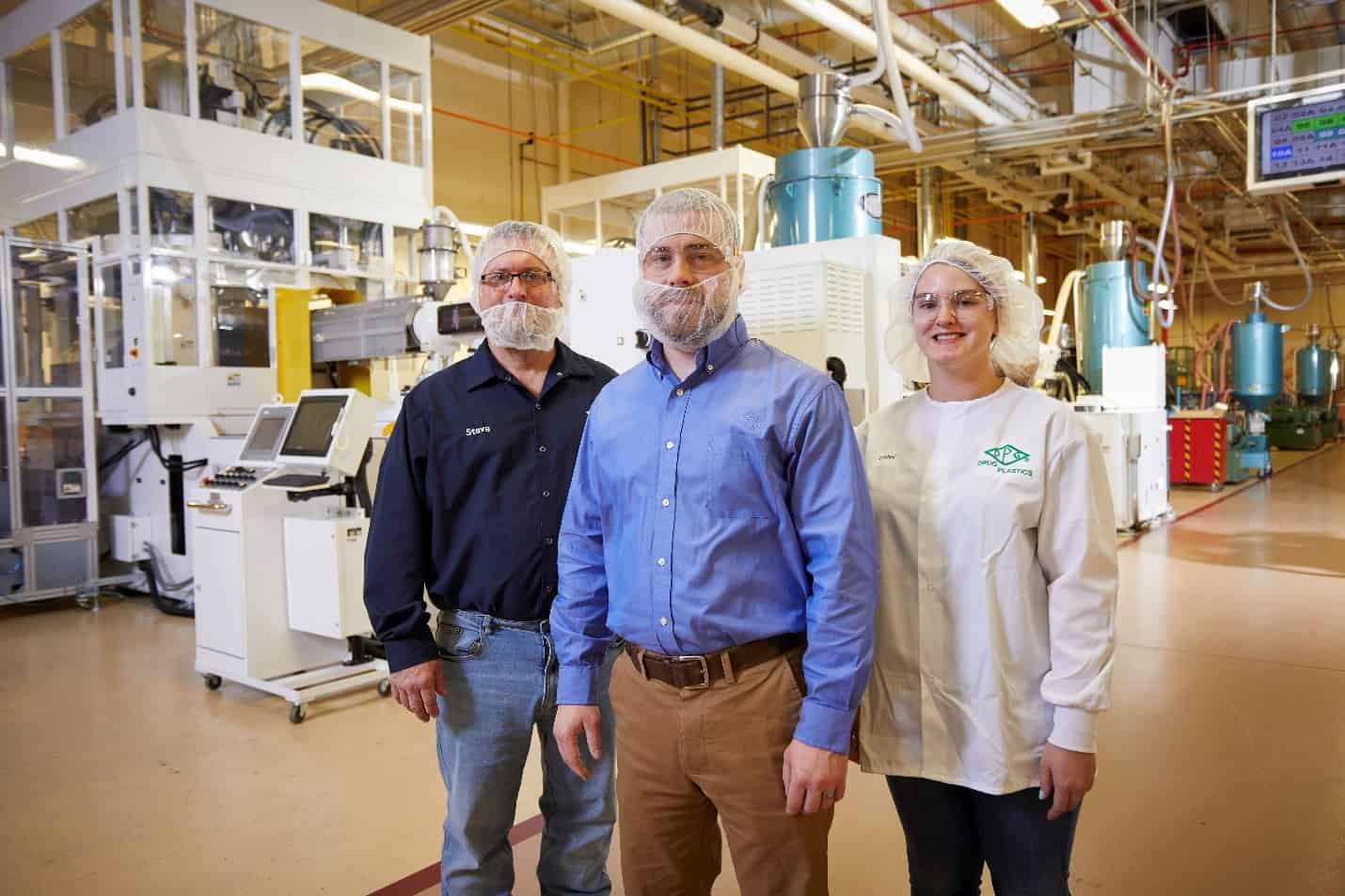 Remember, your brand consists of more than just your logo and company name. It identifies who you are, what your company stands for, and the integrity of your product. Quality packaging will reinforce your company standards and attract consumers to your product – consistently defining you as a quality provider with integrity in the marketplace. Improving your bottom line and meeting your company's financial goals is at stake.
Ready to start a conversation? Contact a knowledgeable team member or call 610-397-5000 to speak with someone immediately.