Source Reduction, also known as Right-Weighting, is the practice of reducing the amount of plastic resin used to manufacture bottles and closures. It identifies the required wall thickness specifically needed for the product that is contained inside. Depending on the product, it may be possible to use a bottle and closure that contains less plastic.
A bottle or closure made with too much plastic can result in wasted plastic. Depending on the product inside, you may not need as much plastic in the manufacturing process. Using a bottle that is thicker than is necessary not only wastes plastic and the resources used to make them, it can also add costs to your bottom line.
Using a bottle or closure made with less plastic reduces the amount of source materials need to produce them – improving sustainability. Savings can be realized in two key areas:
Natural resources: use less raw materials like oil and natural gas to produce plastic resin.
Carbon footprint: reduce the carbon footprint with less processing of raw materials.
What is the Correct Amount of Plastic?
In the example above, the same bottle can be made with less plastic. A bottle with too little plastic may be too thin to hold up to filling lines or may deform after product is filled. And, a bottle with excess plastic may be unnecessary and results in wasted plastic and added costs. We can help determine the amount of plastic that is "just right."
Using a Drug Plastics 75cc Artistic Series Wide-Mouth Pharmaceutical Round shows differences: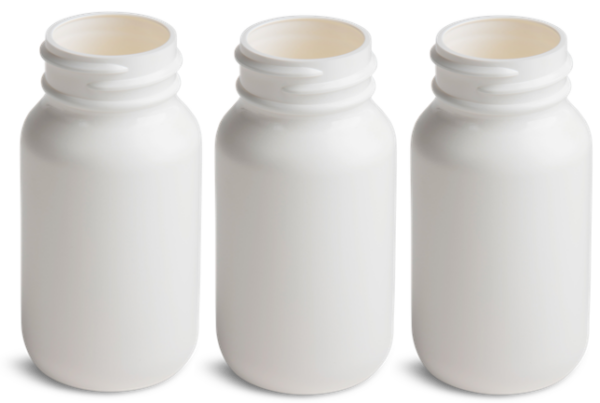 11g bottle averages .034" minimum wall at midpoint
13g bottle averages .045" minimum wall at midpoint
5g bottle averages .075" minimum wall at midpoint
Additional weight may be able to be removed from a bottle if results still adhere to the customers' MVTR, top load, labeling, and other requirements.
This same principle also applies to closures:

38mm Continuous Thread Smooth Side Smooth Top
3.1g manufactured at 1.9g = 38% less weight
*For Example purposes only
Another option would be to select Pop & Click™ closures for your product. Exclusive Pop & Click closures are one-piece closures that use up to 65% less plastic than a comparable 38mm push and turn closure. When you use the entire Pop & Click system, plastic consumption is reduced over a similar cylinder with a push and turn closure. Use our Polypropylene Closure Calculator to see how much can be saved by switching to a one-piece closure.

Additional Benefits
Making the decision to use a bottle or closure that contains less plastic not only helps reduce the use of natural resources and reduces your carbon footprint. It also can reduce costs and improve your brand with consumers:
Transportation Costs: reduce the amount of fuel needed to transport the finished product because bottles and closures weigh less.
Plastic Packaging Costs: reduce the cost of the bottles and closures by using less raw materials.
Brand Awareness: use more sustainable packaging will enhance consumer confidence in your brand.
Find more ways to reduce the costs of plastic packaging here.
Learn More
Ready to discuss how source reduction can benefit your packaging needs? Our knowledgeable experts can guide you in making the right decisions for your product. Contact Us or call 610-367-5000 to speak with a representative right away.