Many health and wellness products including prescription and over-the-counter medications, vitamins, supplements, and lifestyle products now require child resistant (CR) packaging to ensure that children can't open it. How do you determine which CR closure is right for your product with all of the choices on the market today?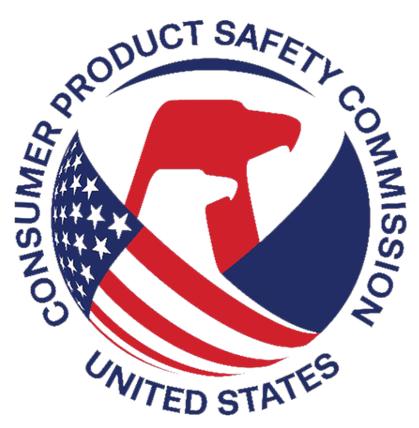 First and foremost, a CR closure and the bottle it is designed to work with should pass Consumer Products Safety Commission (CPSC) testing. CPSC testing ensures that the interaction between the bottle and closure provides appropriate child protection. One should never assume that a CR closure will work with every bottle; providing child resistance on one bottle does not guarantee the same level of protection on another bottle.
Also, note that "child resistant" should not equate to "child-proof." "Child resistant" is not designed to eliminate the possibility of a child opening the container completely. It can only impede access to harmful products, and public health experts recognize it as only one component of prevention. The FDA advocates that all drugs, regardless of the packaging type, should be stored safely out of reach and sight of children to further the overall public health efforts addressing this issue.
Drug Plastics manufactures several types of CR closures:
SecuRx® closures (push and turn style)
Snap Cap closures
Pop & Click™ closures (exclusive Drug Plastics offering)
Every closure we manufacture passes CPSC testing. Each type of closure has different attributes and understanding them is critical in determining which CR closure is right for your product. Let's review each particular attribute:
Size
CR closures are available in a variety of standard diameter sizes: 24mm, 28mm, 33mm, 38mm, 45mm, and 53mm. People commonly understand that smaller neck sizes dispense liquids more easily. Creams and ointments need the largest neck sizes. Solid dose medications and powders use sizes in between. Selecting the right size closure is one of the key variables to designing a packaging system that works well for the user. SecuRx closures are available in 24mm, 28mm, 33mm, 38mm, 45mm, and 53mm sizes; Snap Cap closures are available in 33mm and 38mm; and Pop & Click closures are available in 38mm.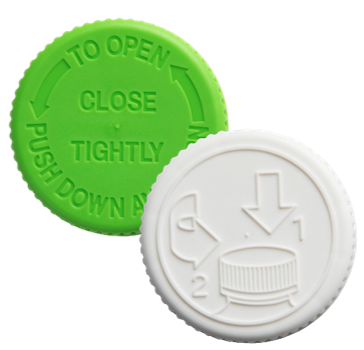 Additionally, smaller closures use less plastic in the manufacturing process than larger closures. If sustainability is also an important attribute for your product, then aim for the smallest neck size that will work well with the product inside it. This will reduce the size of the closure and the amount of plastic required. Learn more about how Drug Plastics can help you to reduce your carbon footprint.
Ease of Use
You want your product to be secure inside CR packaging; however, you also want a closure that is easy for consumers to use. Some CR closures are easier to open than others. Embossed or debossed text or pictorial instructions on the top can instruct consumers on how to open the closure, which is helpful.
Ease of use is a significant concern for those with finger mobility issues. Downward force and grasping can be tough, sometimes making Push and Turn closures difficult to open. For those with a vision impairment, lining up the arrow on a Snap Cap closure can be a challenge too.
You can open our exclusive Pop & Click closures in one step, using a finger, palm of a hand, or an elbow. Pop & Click provides exceptional child resistance and is senior-friendly. In fact, 86% of seniors tested rated Pop & Click easier to open than other CR closures. It passed full CPSC child safety testing with outstanding results at 98% effectiveness after demonstration.

Sustainability
Push and Turn closures are two-piece designs that inherently use more plastic; Snap Cap and Pop & Click closures are one-piece designs that use less plastic. To this point, our 38mm Pop & Click closure uses up to 65% less plastic than a traditional push and turn two-piece closure. When you use the entire Pop & Click system, it reduces plastic consumption compared to a similar cylinder with a Push and Turn closure.
Use our Polypropylene Closure Calculator to see how switching to a one-piece closure can save CO2 emissions. No matter which closure type you choose, all of our closures are recyclable in the current recycle stream.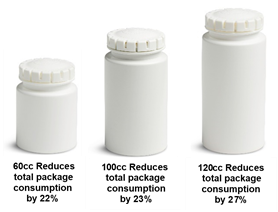 Uniqueness
You can create eye-catching product packaging in many ways. For instance, using a colored or different shaped bottle are two ways. But if you're looking to really add a "wow" factor, consider our Pop & Click closures. The unique design of Pop & Click delivers a modern look that will make your brand stand out to consumers, while still maintaining superior child resistance and user-friendliness.
Cost
If a closure design is complex, it requires more plastic for production, resulting in increased costs. On the other hand, a less complex closure design takes less plastic to make, and costs less. Multiple part closures are definitely more complex and use more plastic than those that are one-piece. One-piece closures use less plastic to manufacture. Less plastic equals less cost. If budget is a consideration, then our Snap Cap or Pop & Click closures are great choices.
Summary

It's critical to determine which closure option is best for your product. While all of the closures that Drug Plastics manufactures are high-quality and provide superior child resistance, you can see in the areas of sustainability, uniqueness, and relative cost Pop & Click is an excellent choice.
Our team can help you select the best closure for your product packaging. Contact Us or call 610-367-5000 to speak with someone right away.