No matter what type of packaging you select for your business's pharmaceutical, supplement, or cannabis product, it needs to be dependable. The packaging is not only the first impression of your company to consumers; it must securely contain and protect the contents inside. Product packaging also exemplifies your brand. It speaks volumes to your audience through eye-catching graphics, provides important information about the product it contains, and communicates what your company stands for to consumers. Packaging is highly valuable and truly multi-purpose. Because packaging performs so many functions for your product, it is important to realize that not all plastic bottles and closures used for packaging are the same. We answer some common plastic packaging questions to help you navigate your options.
FAQ 1: What Plastic Packaging Options are Available?
Plastic packaging offers many different options: bottles can be produced using high density polyethylene (HDPE), low density polyethylene (LDPE), polypropylene (PP), and polyethylene terephthalate (PET). Bottles and closures are available in many different sizes, shapes, and colors – allowing enormous flexibility in design and capacity.
Traditionally, plastic packaging is produced using resins derived from fossil fuels, like oil and natural gas. However, Drug Plastics now offers plastic bottles and closures using sustainable raw materials.
For example, we offer Post-Consumer Recycled (PCR) HDPE and PCR PET. Both resins are made from 100% post-consumer recycled material, and reduce your carbon footprint and greenhouse gasses. The manufacturing process reduces the amount of CO2 released into the environment compared to the amount released when traditional resins are used.
In a circular economy, making new products from PCR resins removes plastic from the environment by converting plastic discarded by the consumer back into a resin that can be used again. Both PCR HDPE and PCR PET are also fully recyclable in the current recycle streams.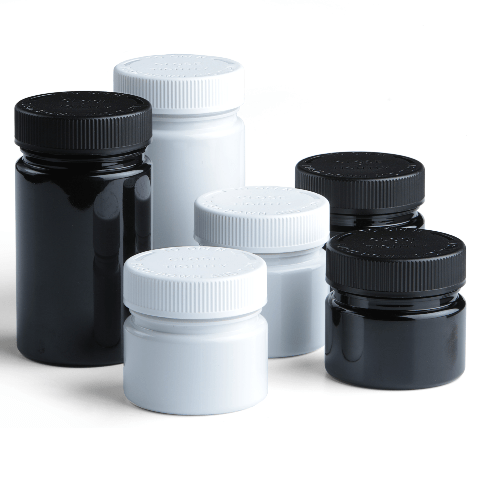 These sustainable resins are FDA-approved and meet the rigid standards for the pharmaceutical, nutraceutical, and cannabis industries. Bottles also pass USP and ASTM testing. Both resins are physically and chemically comparable to their traditional resin counterparts. They are virtually identical. Switching is as simple as approving an alternate material.
Keep in mind that bottle selection is only half of the equation. Equally important is selecting a plastic closure that works with the chosen bottle and has the right features you need.
Learn More About Drug Plastics' Commitment to Sustainability
FAQ 2: How Do Bottles and Closure Work Together?
There are many popular types of plastic closures to choose from depending on the application. Continuous Thread closures consist of a finish that has one non-interrupted thread that spirals downward toward the shoulder of the container. Dispensing closures are also popular. These closures allow the user to dispense an exact amount of the contents through the closure.
Some medications, supplements, and cannabis packaging products require a closure that offers a child-resistant (CR) component to the packaging. CR closures often include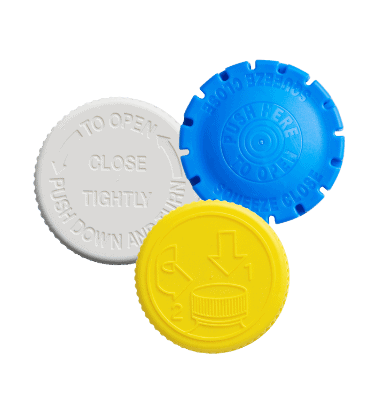 text or pictorial opening instructions on the top of the closure. No matter what type of closure you select, the combination of the proper bottle and closure is what keeps a product safe inside.
At Drug Plastics, we manufacture our own bottles and closures that work together and provide a proper solution for your packaging challenges. A one-stop-shop approach also saves you time and money, while providing peace of mind that your products will be safe for consumers.
FAQ 3: How Do Plastic Closures Increase Package Safety?
What's more important than keeping medications, supplements, and cannabis products out of the hands of children? Child resistant (CR) packaging not only increases safety, it instills consumer trust in your products and your brand.
A closure that doesn't fit the bottle will prevent the two components from working properly together, leading to possible accidents if the product is around children. We offer a wide variety of CR closures that are available in many different styles and functions – from traditional push-and-turn systems to snap caps and more.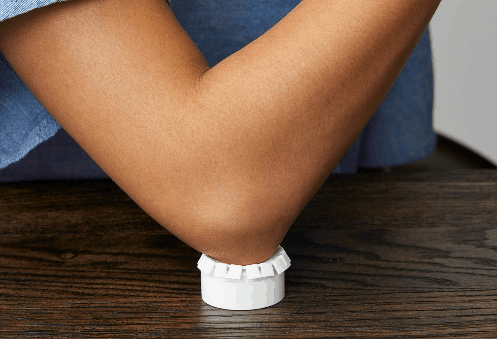 Child Resistant and Senior-Friendly Plastic Closures
Plastic closures can be child-resistant, and at the same time, be senior-friendly. We offer a variety of closures that enable use by individuals who may have problems opening traditional capping systems.
For example, Drug Plastics has developed a closure system that is safe for children and easy-to-open for those who have difficulty using their hands.
Our exclusive Pop & Click™ Packaging Technology maintains superior child resistance while offering multiple hands-free opening and closing options for adults with limited hand or finger mobility.
FAQ 4: Are there Regulations on Plastic Packaging?
Plastic bottles and closures manufactured overseas may have impurities in the resin or colorant that could leach or bleed into your product. They may not have documentation of origin or comply with FDA regulations.
Drug Plastics manufactures all of our products and sources all of our raw materials right here in the USA. Our products comply with FDA regulations and have proper documentation. You can rest assured that your bottles and closures are manufactured under strict guidelines for the safety of your consumers. We're also ISO 15378 certified, which represents our commitment to continuously improving our manufacturing process and quality systems.
Whether you need pharmaceutical pill bottles, supplement bottles, or plastic cannabis containers, there are stringent regulations on all types of packaging. If you use packaging that does not meet the guidelines, you could be putting your company at risk for product recalls, decreased sales due to low consumer confidence and other undesirable risks.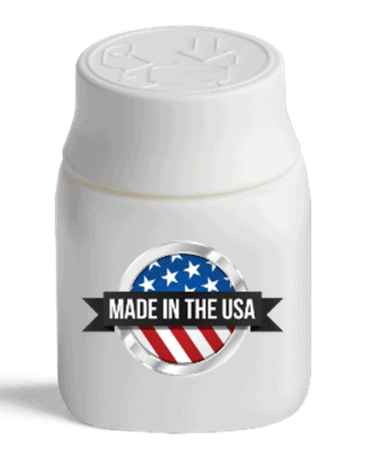 FAQ 5: Why Should My Company Choose Drug Plastics?
Drug Plastics is a true packaging partner for our customers. We are invested in our customers' success and care about their companies. Let's face it, businesses depend on one another for continued growth – we want to grow with our customers, and we realize that there is more to a relationship than just the financial transaction of buying plastic bottles and closures.
Our company has state-of-the-art production equipment. We value rigorous process control and practice continuous improvement to ensure dependable product quality – each and every time. As a packaging partner, we understand that bottle defects diminish brand presence and we continually strive to remove defect-producing production problems out of our manufacturing process. This helps our customers avoid many downstream quality problems and helps them focus on growth and off of damage-control.
We'll provide the best packaging solution – whether you need custom pharmaceutical pill bottles, supplement containers, or plastic cannabis bottles, we work with you to create unique packaging that fits your needs. We know details matter and we care about providing every healthcare customer with outstanding products and service.
For more information about Drug Plastics, our plastic packaging products, and how we can build a long-term relationship through strategic partnership, contact our plastic packaging team or speak with someone immediately by calling 610-367-5000.