For all types of businesses across the globe, sustainability has become an important component for success. It is increasingly common for companies to include sustainability efforts in their strategic plan. Are you including a sustainability component in your company's growth plan?
More and more, consumers are eager to purchase pharmaceutical, vitamin, supplement, and cannabis products that are packaged thoughtfully, with the environment in mind. If you are using or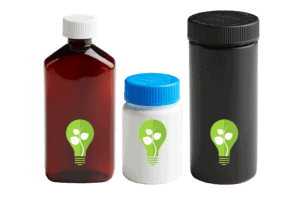 thinking about using plastic bottles and closures for your product packaging, you now have options that reduce the carbon footprint of your product or are produced from sustainable and/or renewable resources. Incorporating sustainable elements into your packaging is not only good for the environment, but it may also be good for your brand.
At Drug Plastics, we take sustainability seriously and strive to eliminate unnecessary processes that negatively affect our carbon footprint. We are taking steps now to help ensure a sustainable future for our planet.
For example, our planet-friendly packaging options include Post-Consumer Recycled (PCR) HDPE and PCR PET. Both resins are made from 100% post-consumer recycled material, and reduce your carbon footprint and greenhouse gasses. The manufacturing process reduces the amount of CO2 released into the environment compared to the amount released when traditional resins are used.
In a circular economy, making new bottles from PCR HDPE and PCR PET removes plastic from the environment by converting plastic waste discarded by consumers back into resin that can be used again and again. Both resins are also fully recyclable in the current HDPE and PET recycle stream. Both sustainable resins are chemically and physically comparable to their traditional resins: they are virtually identical. Switching is as simple as approving an alternate material.
Additionally, PCR HDPE and PCR PET meet the rigid standards for the pharmaceutical, nutraceutical, and cannabis industries. Bottles also pass USP and ASTM testing. Check out our Sustainability Calculators to see how switching to planet-friendly resins can positively impact the environment.
We also offer the following options to help you reduce your company's carbon footprint:
Source reduction/right weighting
Flame treatment elimination
Reusable plastic pallets
We invite you to explore our planet-friendly packaging options and join us in our efforts to help save the environment for future generations. Have questions? Contact Us or speak with someone immediately by calling 610-367-5000.