Are you a current customer or considering doing business with Drug Plastics? Are you curious about how plastic bottles are made? Would you like to know what it looks like inside one of our manufacturing plants? Watch the Pellets to Pallets video to learn more about Drug Plastics and the way we make plastic bottles. This video was created because it's important to show our customers how we make plastic bottles, and the steps we take to ensure the highest quality standards and regulatory compliance. It provides an inside look at the manufacturing process from resin pellets to pallets of product.
Drug Plastics is the leader in HDPE, LDPE, PP, and PET packaging for the pharmaceutical, nutraceutical, and lifestyle industries. Our plastic bottles are used worldwide to package prescription drugs, over-the-counter medications, vitamins, supplements, and cannabis products. When you work with Drug Plastics, you have access to over 60 years of manufacturing knowledge and experience. Making defect-free defect-free packaging every time is our goal. We deliver dependable, on time, repeatable quality that will keep filling lines running smoothly. Watch the video below.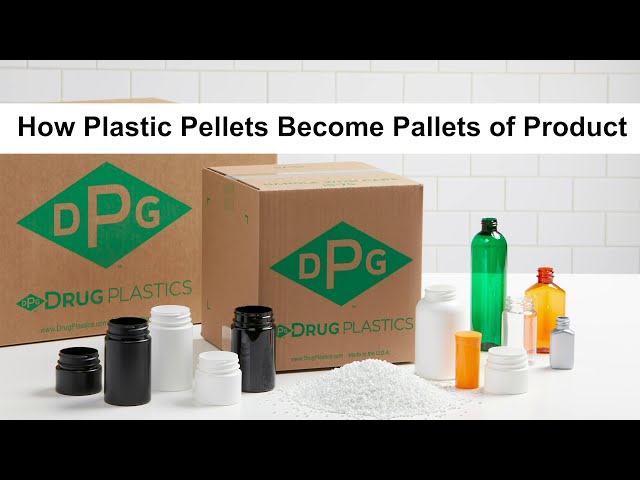 We Start with Resin Pellets
Drug Plastics only uses resins, colorants, and other raw materials that are FDA-approved, ASTM-tested, and manufactured in the USA. Feel good that packaging will be secure and regulatory-compliant. Resin pellets are delivered to our manufacturing facilities, tested and checked for quality, then unloaded into controlled storage silos for future production. If resin arrives via Gaylord containers, they are stored inside our warehouses. Colorant is also received and stored in our warehouses. All incoming materials are inspected during receiving, with some materials undergoing additional testing. Resin is then blended with colorants in our material blending areas and conveyed to the blow molding machine.
Three Types of Blow Molding Machines
We use three blow molding processes to make the majority of our plastic bottles: Compression Blow Molding, Injection Blow Molding, and Injection Stretch Blow Molding. Each process is used for specific bottles and resin types.
In Process QC Checks
When the bottles leave the blow molding machines, they are inspected for holes, sealing surface, ovality, and other potential defects using the latest technology. Bottle samples are also routinely removed from the production line for additional evaluation in our quality testing laboratories. From here, bottles proceed through a counter or a weigh scale and tumble into a bag inside the finished shipping carton. The bottles can also be stack-packed by hand or by automation. The shipping cartons are then labeled for identification and sealed.
QC Sampling and Inspection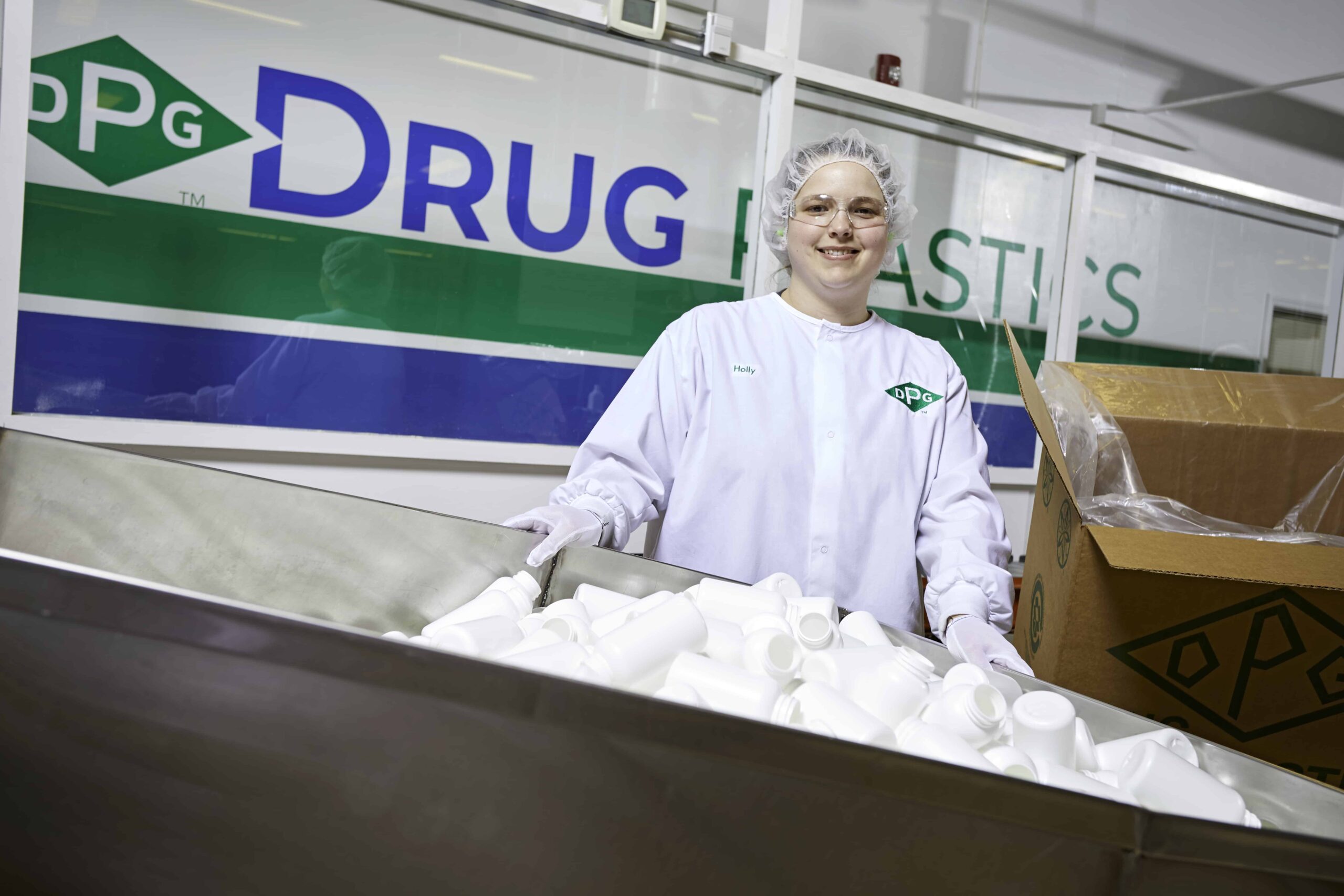 When the boxes leave the production area, some are randomly selected for further QC inspection in our quality inspection laboratories. Selected bottles are visually inspected, measured, and tested to confirm quality, consistency, and compliance.
Sorting Room, Warehouse Storage and Shipping
Now the cartons of bottles are ready to be sorted by lot number, then palletized and stretch-wrapped in our sorting room. The cartons are then moved by forklift to the finished goods warehouse and stacked in rows. Our shipping personnel inspect and ensure the trailers are free from any signs of odor, damage, or pest activity. The trailer is then loaded with pallets of bottles and ready to be delivered to our customers. A security seal is installed on all non-LTL trailers and a photo is taken to ensure all procedures have been followed.
Our Experience Makes a Difference
When you see any of our manufacturing facilities, you will get a sense of cleanliness, order, and confidence derived from our over half a century of experience. The fact that we continue to invest in state-of-the-art machinery, automation, and production software that keeps us on the cutting edge of technology ensures product consistency and reliability. We are also committed to following cGMP procedures with a team approach to product quality. Our ISO15378 certification demonstrates our dedication to continuously improving our processes and quality systems.

We provide a clean and safe work environment for our employees – that's why we have team members who have been with us for 20, 30, and even 40 years! We believe our employees are a key ingredient in making quality products for our customers and contribute to our success every day.
Whether you are a current customer, or considering doing business with us, we invite you to bring us your packaging challenges. We make every effort to treat our customers in a responsive, dependable way, while assuring that they get exactly what they need, when they need it. Let us show you how.
For more information or to discuss your packaging needs, contact a knowledgeable team member, or speak with someone immediately by calling 610-367-5000.