Made with Post-Consumer Recycled Resins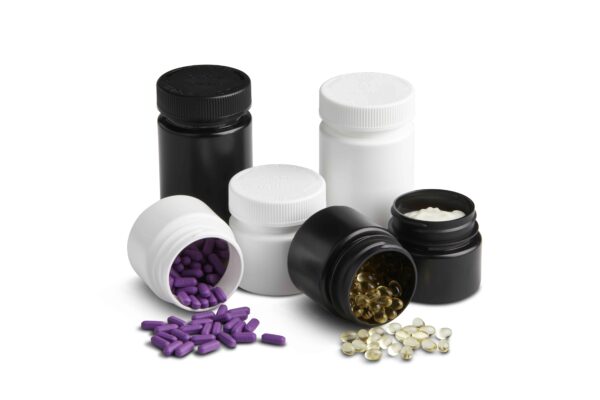 Wide range of applications. PCR HDPE and PCR PET jars are ideal for pharmaceutical and nutraceutical brands that package solid dose medications, powders, ointments, gels, creams, and edibles.
Consistent look for different quantities. Available in three sizes: 75cc, 120cc, and 230cc. All sizes are designed to work with our 53mm SecuRx® child resistant closure, providing brand consistency for your product line.
Maximize filling line efficiencies. Each jar has a uniform diameter and a 53mm neck finish. These dimensional similarities eliminate the need for costly changeovers for closures and require no changes to filling line rails.
More eco-friendly. In a circular economy, making new jars from PCR resins lowers your carbon footprint and removes plastic from the environment by converting HDPE and PET plastic discarded by the consumer back into resin that can be used again and again. PCR HDPE and PCR PET jars are fully recyclable in the current recycle stream.

Tamper evident security built-in. The molded shrink band bead creates a tamper evident security feature when the jar is shrink wrapped to the closure. An optional heat induction liner is also available as a tamper evident feature.
Switching is easy. PCR HDPE and PCR PET are physically and chemically comparable to their traditional resin counterparts. They are virtually identical. Switching is as simple as approving an alternate material. Jars produced with both PCR resins are FDA-approved and pass USP and ASTM testing.
For more information, Contact Us or call 610-367-5000 to speak with someone immediately.