Request your free samples of jars made with Sustainable PCR HDPE and PCR PET. Contact Drug Plastics at
610-367-5000
for additional product assistance.
Request your free samples of jars made with Sustainable PCR HDPE and PCR PET. Contact Drug Plastics at
610-367-5000
for additional product assistance.
The need to protect the environment and our planet grows every day. In fact, more and more companies across the world, and in every industry, are realizing that being environmentally-conscious not only helps their brand substantially with consumers, but can also have a big impact on the planet. At Drug Plastics, one of the primary goals of our product development team is to identify, source, test, and approve planet-friendly packaging options for bottles and closures. We're now offering plastic bottles manufactured with sustainable resins that help to reduce the carbon footprint.
Recently, our development efforts have focused on planet-friendly Post-Consumer Recycled (PCR) resins. In a circular economy, making new bottles from PCR resins removes plastic from the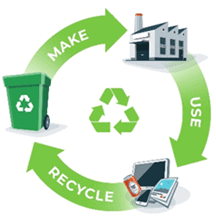 environment by converting plastic waste discarded by consumers back into resin that can be used again. PCR resins are also fully recyclable in the current recycle streams. Compared to traditional resins, resins made from 100% post-consumer recycled material reduce both your carbon footprint and greenhouse gas emissions.
We are pleased to announce two exciting milestones in our development of bottles made from PCR resins.
Drug Plastics now offers EVERY bottle and jar made from traditional HDPE in PCR HDPE resin. Samples are available and bottles can be purchased today. View a full list of PCR HDPE products on our Product Search page.
A select line of bottles and jars made from PCR PET is also available. However, due to increased global demand, our current PCR PET supply is committed to existing bottle customers. We are currently sold out of this resin for new bottle requests. We are actively exploring additional qualified sources of supply that will be able to assure consistent quality and availability of our PCR PET packaging.
With all PCR resins, increased sustainability and reduced carbon footprint are just the beginning of the story.
PCR resins provide application versatility.
PCR HDPE and PCR PET retain the same properties, performance, and application versatility as their traditional counterparts.
PCR resins are FDA-approved.
PCR HDPE and PCR PET meet the rigid standards for the pharmaceutical and nutraceutical industries. Bottles also pass USP and ASTM testing.
Switching to PCR resin is easy.
Both sustainable resins are physically and chemically comparable to their traditional resin counterparts. They are virtually identical. Switching is as simple as approving an alternate material. Watch our Sustainable Jar video to learn more.
Introducing our PCR resin Jar Family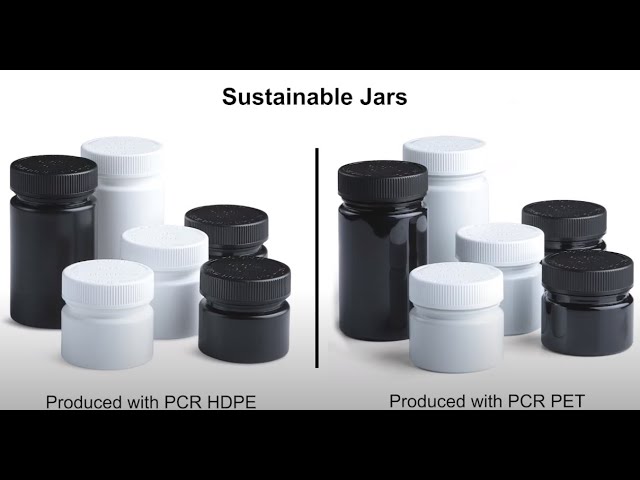 To illustrate a savings example, let's use our new PCR HDPE and PCR PET Jar Family. These sustainable jars are available in three sizes: 75cc, 120cc, and 230cc. All sizes are designed to work with our 53mm SecuRx® child resistant closure, providing brand consistency for your product line. A 53mm Continuous Thread closure can also be used for those products that do not require child resistant packaging. The consistent 53mm neck finish on each size eliminates the need for costly changeovers for closures, and require no changes to filling line rails.
In addition, the molded shrink band bead creates a tamper-evident security feature when the jar is shrink wrapped to the closure. An optional heat induction liner is also available as a tamper-evident feature. In the following scenarios, you'll see how plastic packaging made with sustainable resins can make a positive impact on the environment.
Switching to Drug Plastics jars made from 100% PCR HDPE can reduce carbon footprint up to 90%.
In this example, we use and order of 10 million 120cc jars produced from traditional HDPE and made with 100% non-renewable electricity. Switching this order to jars produced with PCR HDPE and made with 100% renewable electricity saves 1,052 metric tons of CO2. That is equivalent to removing 229 cars from the planet for one year.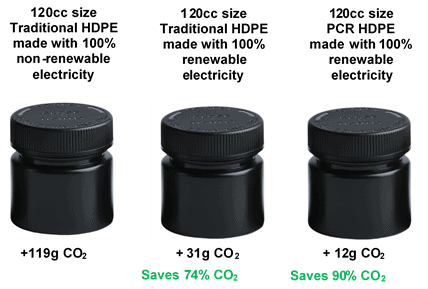 Switching to Drug Plastics jars made from 100% PCR PET can reduce carbon footprint up to 81%.
In our next example, we use an order of 10 million 230cc jars produced from traditional PET and made with 100% non-renewable electricity. Switching this order to PCR PET produced with 100% renewable electricity would save 1,314 metric tons of CO2. That is equivalent to 1,610 acres of US forest removing CO2 from the planet for one year.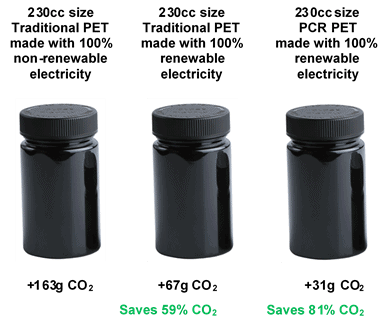 It's easy to make a big impact with sustainable resins.
Are you ready to make sustainability a priority in your business? Want to become a change agent in your industry and help save the planet for future generations? We can help you make the switch to planet-friendly PCR resins. Contact us or speak with a knowledgeable team member immediately at 610-367-5000.